If you played played hooky today were lucky enough to get out of going to class/work/whatever or you work a total cupcake job and you're off for President's Day, your day was an absolute waste if you didn't spend it laying on the couch in your underwear watching shitty daytime TV and/or hardcore bingeing on some Netflix. I know that's some backwards logic, but it's actually a well known fact that God created snow days specifically to do just that. That's in the Bible, look it up. So what better way to spend your day off than watching one of the finest sports films ever made? Hard to believe that it's been damn near 20 years since we first saw Happy crushing 400 yard drives in the Waterbury Open.
RIP Mr. Larson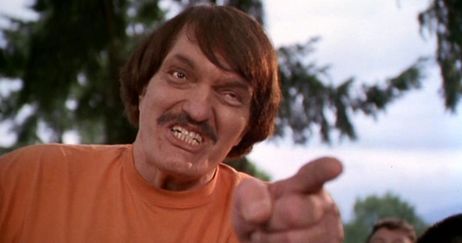 PS- Shout out to Shooter McGavin. Hands down one of the best movie villians in the history of cinema.
PPS- How about Julie Bowen still bringing the heat nearly 2 decades later? Holler if it took you almost a full season of Modern Family to realize that Claire Dunphy was the same chick that played Virginia Venit. Father Time did right by her.
<img src="
" alt="" />