Ladies and gentleman, we have come to celebrate life, to mourn our loss at a time of death, and to proclaim our faith. It is not with great sadness that we mourn the loss of the Baltimore Ravens football team. A franchise that, while they have enjoyed many successes on the gridiron in the past, has succumbed to old age, injuries, and a piss poor roster. Let us all raise our voices and join in honoring the life and death of these poor souls with a rendition of "On Eagles Wings."
(Sing along and replace the word "Eagles" with "Ravens.")
RIP Baltimore Ravens, 1996-2015.
AND NOW ONE TIME FOR THE GOOD GUYS!
How 'bout them Bengals, huh? Looks like I'm not the only one around here that thinks this team can make some real noise anymore. Obviously the big knock on this club for the past half decade has been Andy Dalton's inability to find a way to win in big time games, but but it looks like you can put both lips on that narrative's fat ass and kiss it goodbye because Andy absolutely won that game yesterday. Yea he tried to lose it, but when the team needed their QB to step up and make the throws necessary to win that football game, Dalton delivered.
The first 52 minutes of that football game were AWFUL, marred by penalties, missed opportunities at the goal line, poor clock management, and sloppy play in general from both teams. Just painstakingly difficult to watch. Steve Smith abused our secondary like a drunken stepfather, Russell Bodine looked like he was playing on roller skates, and our ground game was virtually nonexistent. Despite all that, the last nine minutes of that football game were some of the most exciting I've seen in quite a while. It might not have been pretty, but no one is going to win pretty every week in the National Football League, especially against a divisional rival, at home, fighting to save their season.
If anything gets sweeter than burying Baltimore three weeks into the season in their own stadium, it's beating that punk bitch Steve Smith when he's running his mouth, which coincidentally is all the time.
Look at the emphasis he puts on "fuck boi" there at the end. That man's trash talk is truly an art form. I can't wait to see that motherfucker hang 'em up for good.
Oh, and did you hear Big Ben got hurt?
Now what are we supposed to do? The Ravens are dead, and unless Mike Vick can pull a rabbit out of the hat and revert back to 2004 cover of Madden Mike Vick the Steelers are going to be reeling 'til Ben gets back, which means the Bengals have a real chance to open up a commanding lead in the division. "Two hands firmly locked at ten and two on the steering wheel of the AFC North" is how it's being described, but I think a more appropriate analogy would be "one hand firmly on the wheel and the other on the switches, hitting that three wheel motion." Seriously, it's week three and we're pretty much on cruise control. Is this how Patriots fans feel every year? Not sure if I like it or not, kinda takes the excitement out of the season, but I could maybe get used to this.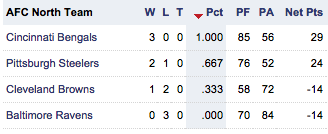 Next up, KC at home. The Chiefs are coming off a short week at Green Bay and let's face it, the Chiefs are a decent club but they shouldn't be any match for this scorching hot Bengals team at home with a full head of steam. Bengals by a billion. We're going to scalp those bastards.