It's been a while since I've written one of these unprovoked, out of the blue, musical pieces on here, but I've got some time today so I figured why the hell not. This one is pretty straightforward. If your favorite NFL QB's were rappers and/or vice versa, who would they be? Let's go.
Tom Brady – Eminem
Both of these Michigan men originated from humble beginnings to become arguably the best at their respective trades. Eminem grew up in a trailer with Kim Basinger and battled black dudes at the shelter until he signed with Dr. Dre, Tom Brady struggled at Michigan until he eeked his way on the Patriots roster and ultimately ended up winning a Super Bowl. Em has sold more records than anyone and Tom has four Super Bowls (probably gonna get five before it's all said and done) and will likely break a lot of all time passing records before he hangs 'em up. Many folks largely consider Eminem the greatest rapper of all time. Likewise, many folks largely consider Tom Brady the greatest QB to ever play the game.
Ben Roethlisberger – Rick Ross
Ben and Ross share so many similarities that there's a distinct possibility that they're actually long lost brothers-or distant cousins at the very least. Both are overweight, both get a lot of hate from fans, both have had their fair share of legal issues, and both have been at the top of their game for a long, long time. Love them or hate them, there's really no denying that both Ben and Ross are some of the best still doing it right now and with time, both will probably go down as legends in the game.
Andy Dalton – Big Sean
Andy and Lil Sean are basically the measuring sticks for mediocrity, but both have done some big things in their career. Andy is one of winningest and most prolific passers of all time through his first five years in the league and Sean has signed with Ye, toured and collaborated with some of the biggest stars in music, put out several BANGERS, and won a number of awards. On paper, these dudes have star written all over them, but in reality, these guys have some serious flaws. Andy gets knocked for not showing up in big games and wilting away during the postseason, and Sean, well, something just hasn't quite been there with him and I'm not quite sure I can put my finger on it. Maybe that Thanksgiving Day halftime performance has something to with it? Either way, the bottom line is this, if your QB is better than Andy, you have yourself one of those 'elite' guys. If not, well then it's time to draft you a new signal caller*. In the same light, if you're a better rapper than Big Sean, you're in rare company. If not, maybe it's time to just turn off the mic for good.
*If Andy finishes what he's started this year than I'll take back everything I just said. Do it, Andy. Prove me wrong.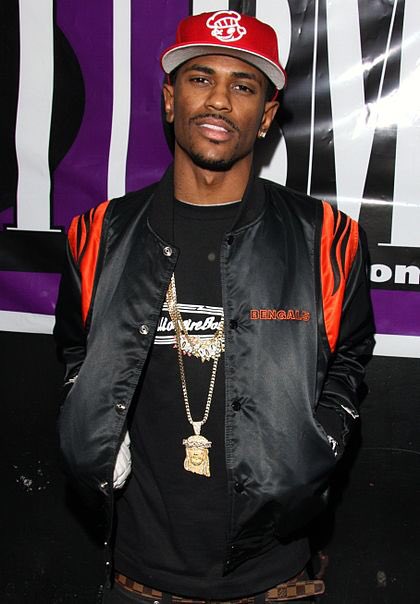 And while we're on the subject, are we letting Lil Sean on the Bengals bandwagon this season? Normally I'm all in on "the more the merrirer," but I'm not sure we do.
Ryan Fitzpatrick – 2 Chainz
Hey, did you know 2 Chainz graduated with a 4.0 GPA? Hey, did you know Ryan Fitzpatrick went to Harvard? Crazy stuff, I know. Fitzy has juuuusssst enough legs and just enough of an arm to have stuck around in the league for a while. 2 Chainz has juuuusssst enough crafty one liners to have carved himself out a nice little rap career.
Peyton Manning – Lil Wayne
This might be one of the more upsetting comparisons to make. For the most part, everyone is a Peyton fan and everyone is a Wayne fan. Everyone remembers the all out aerial assault Peyton, Marvin Harrison, and Reggie Wayne put on the league back in the 00's and everyone remembers the Carter I/II/III, Dedication series, No Ceilings, Like Father Like Son, run Wayne had right around that same time. Probably two of the best and hottest runs in football and rap history, respectively. Now? Well, let's just say times have changed. I don't know if the game has changed that much or if father time has just caught up with them, but anytime Peyton throws a pass or Wayne drops a track, it's pretty tough to not cringe. It's painful to say and even more painful to watch firsthand.
Aaron Rodgers – Drake
Recent struggles aside (Editor's Note: I had that line saved in the notes on my phone and then Rodgers threw that Hail Mary last night so please ignore the recent struggles line), Rodgers and Drake are probably the best in the game right now. Sure you can maybe shuffle some guys around but no matter what Mr. Discount Double Check and 6ix God will find themselves in your top three or four for sure. Say what you want about their hilarious dance moves or not fucking their girlfriends on gameday or their memes on social media or their socially awkward demeanor, but these guys can play on my team any day of the week and twice on Sundays. If you have Rodgers and Drizzy in your camp, you better count your lucky stars.
Jay Cutler – Wiz Khalifa
The first time I ever heard Wiz was like freshman year of college and I was like, "whoa, this dude is gonna be a star!" His early mixtape successes combined with his flow, his look and the Pittsburgh stoner schtick had big time written all over them. Likewise, first time I saw Cutler play in Denver I thought he'd be the man. He had the size, the arm, good mobility, and just had the look of a star franchise QB. But then they signed their big deals and things kind of tailed off from there. Wiz continues to fart out subpar stoner anthems for 16 year olds and Cutler throws just enough TD passes for him to keep that "franchise QB" label.
Tony Romo – T.I.
The Tony Romo/T.I. comparison might be the most spot on comparison of all time. Both of these guys are insanely talented and stars in their own right, they just can't seem to ever get out of their own way. T.I. rises to the top of the rap game, then Big Phil gets shot and killed on 75 north sending him on a downward spiral to prison, Tony Romo leads arguably the best Dallas team in years and ends up breaking his collarbone. Twice. And so the cycle repeats itself. Sucks for those dudes because unfortunate circumstances are drawn to them like flies to shit and most of it isn't even their fault.
Colin Kaepernick – Tupac Shakur
This one might be a bit of a stretch, but we'll go ahead anyway. Tupac was a great rapper. Nobody is doubting that. Colin Kaepernick used to be a great quarterback. I know a lot of folks may disagree, but the guy was the driving force behind one of the best teams in the league for several seasons largely due to his insanely gifted athleticism. The arm, the speed, the playmaking ability, the wins, everything was there, but then something happened. Kaep was shot inside Quad Studios in New York City. No wait, that was Tupac. Shortly after that, Pac was gone (RIP). Unfortunately, I fear Colin is headed down a similar path. He hasn't been taken from us yet, but riding the pine behind Blaine Gabbert on a Jim Tomsula coached San Francisco squad means he's just as good as dead. What a shame.
Eli Manning – Juicy J
Both Eli and Juicy J are guys that have gotten over in a big way throughout the course of their careers. Eli is a decent QB, sure, but a lot of the chances he's gotten are largely because his last name is Manning. J has gotten a lot of those same breaks as well. I mean, let's not sit here and act like J's solo career would have gotten off the ground had he not come straight out of Three 6 Mafia. Like Cutler, Eli has thrown just enough TD's to keep that franchise status and Juicy J has rapped enough of the same strip club anthems to make him king of the party scene. Oh, and I haven't even mentioned the hardware. Eli has two rings and Juicy J has an Oscar. People forget that.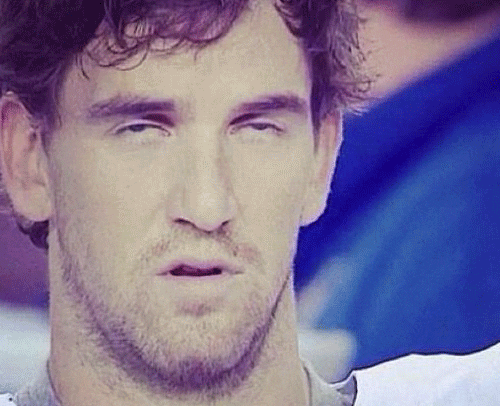 Cam Newton – Kanye West
Killa Cam and Yeezus are both about as good as it gets and neither one minds letting you know that's the case. Cam is single handedly reviving the touchdown celebration game with each undefeated week and Yeezy's body of work coupled with the superstar status have made him the self proclaimed Mozart of this generation. And don't even get me started on the fashion thing.
Teddy Bridgewater – 50 Cent
Teddy is 50 for no other reason than he's tough as nails. I've seen Teddy play with a sprained ankle and a broke wrist at the same time, I've seen Teddy take a shot to the chops only to come back and win the Sugar Bowl, and I've seen Teddy take a dirty elbow to the dome only to come right back the next week and engineer a win. 50 got shot nine times and bounced back to put together one hell of a career in the early 00's and I think we're witnessing the beginning of another brilliant career in Teddy H2O.
Side Note: How the hell did Teddy not go in the top ten of his draft class? I watched him play at Louisville for three years and he's got everything you want in a QB. He can make all the throws, he's mobile, and he's got all the intangibles you could ask for. He's a leader, he's not scared of the big stage, his teammates love him, and he's tough as nails. Looking back most experts called him the best QB in that draft class yet he didn't go until the 30's? I know he had a shitty pro day and the gloves thing weirded people out, which really isn't that big of a deal because Peyton and Kurt Warner wore gloves and they're HOF'ers. I don't want to be the guy that plays the race card, but it's 1000% because he's black and now there's 20 teams that are kicking themselves for not pulling the trigger. I'm team Teddy all the way.
Also Cam'ron works here too. Anyone who drives themselves to the hospital in a Lambo after taking 8 bullets is automatically in the running for toughest guy of all time.
That's all I really got time for now. I'll probably do another one of these at some point when I get some more time/can think of more comparisons off the top of my head. If you have one you want to share, you know to find me @QuineTime on Twitter.