A lot of people think the Bengals are going to get their pussies spanked tonight and rightfully so. We're playing the Steelers in the playoffs in a primetime TV slot. Not exactly the best combination of events given the Bengals track record, but it's almost like people want the Bengals to lose. It's almost like people want the Steelers to march in here and steamroll us off the field so that they can say they called it and go back to their miserable, boring, non-football having lives, but you know what? Fuck those people. Did I miss the memo on it being not cool to wish for the improbable and all but guarantee a victory on Saturday evening? Instead of focusing on the negative narrative (which has been running strong for five years now) let's take a look at some reasons for optimism heading into tonight's playoff tilt.
 Home Field Advantage
Let's start with the obvious. The Bengals get to play their first round AFC playoff matchup against the Pittsburgh Steelers in the friendly confines of 1 Paul Brown Stadium. I know it took like a decade to finally beat the Steelers in PBS since it's inception and I know the Bengals are something like 2-13 all time vs. Pittsburgh at home, but let's not forget that the Bengals have amassed a 13-2-1 home record over the past two seasons. Hold on one sec, let me grab my calculator and double check if that's a good record ok it is good I just wanted to confirm. Playing at home means no hectic travel, no hotel rooms, and an electric home crowd. At times Bengals fans have been somewhat lukewarm at games this season but come Saturday PBS is gonna be ROCKING. Downtown Cincinnati might come unglued.
Look the bottom line is if I told you before the season that the Bengals were going to play the Steelers in the first round of the playoffs, where do you want that matchup to be played? What would your answer be?
That's what I thought. Moving on.
Familiarity With the Opponent
 Again, I totally realize that the Bengals don't exactly have the best track record against the Pittsburgh Steelers, but I've seen far too many games against non-divisional opponents in which the Bengals come out looking totally unprepared. That won't happen tonight. In fact I guarantee it. Mike Tomlin may coach circles around Marvin and we may get run out of the building, but at least we know what the Steelers are going to bring to the table. AKA Big Ben throwing the ball somewhere in the neighborhood of 40-50 times and dirty hits on defense. Also watch out for those Antwaan Randle El throwback passes. Not sure that guy has played in like a half decade but I wouldn't be surprised if they brought him back in for a day just to try and catch us with our pants down.
Healthy Roster
With the exception of Andy Dalton (which is a pretty big exception) the Bengals are as healthy going into the playoffs as they've ever been the past five years. And to be honest, the more and more I think about it, the less and less I worry about AJ McCarron starting this game tonight. First of all, he showed in that first game vs. Pittsburgh that he was more than capable of moving the ball against their secondary. He'll have to do a much better job of taking care of the football, but even coming off the bench cold after Dalton went down, there were times it seemed like Ray Ray was taking that offense down the field like a hot knife through butter. I expect that trend to continue with more than ample time to prepare this time around. Secondly, you could make an argument that those two opening drives against Denver were the best drives the Bengals offense had all season regardless of who was taking snaps. At the end of the day, whether McCarron or Dalton had started this game, if we were relying on the QB to go out there and throw for like 400 and 4 TD's just to get us a win, we'd probably end up going home with our tail between our legs anyway. The way we're going to beat Pittsburgh is with slow, methodical drives that keep Ben on the sidelines and getting our defense off of the field on third down. Efficiency is KEY in this game and AJ McCarron is more than capable of being efficient, especially with a full defense to fall back on and not Rex Burkhead starting at WR this time around.
Revenge Factor
Everyone is talking about the 3 P's. Pittsburgh, Primetime, Playoffs. The Bengals Kryptonite. We literally have no chance to win because we suck in January and the deck is stacked so impossibly against us that there isn't a chance in Zeus's butthole that we come away with a playoff dub tonight, right? Well, call me crazy, but I've never felt more confident about a football game in my entire life. I know that's insane, but every sign in the universe is pointing against us so why not flip the script on it's head and shock the world? The playoffs are where the magic happens. I've never seen a Bengals team this focused. Not just today but literally all season long. You can tell this team has been playing for January and beyond all year and every single man in that locker room is bought in. Now we get to play the same scumbag arch rivals that knocked out our franchise QB a month ago. The same team that ended our Super Bowl hopes that rested on Carson Palmer's knee exactly ten years ago. That shit doesn't just happen. That's like some astrological, stars and planets align, Mayan Calendar type shit. This really is the season of destiny and I think every player and coach that's going to step foot out on that field tonight knows that. I'm sure there are a lot of nerds out there who won't buy into this revenge factor stuff, but if you think that everything I just said isn't going to play a factor this evening then you haven't played a down of football (or any real sport for that matter) in your entire life. We're going to beat those cocksuckers and free this city from the depths of playoff oppression and despair that has been building up for the last quarter century. And that too, my friends, is a guarantee.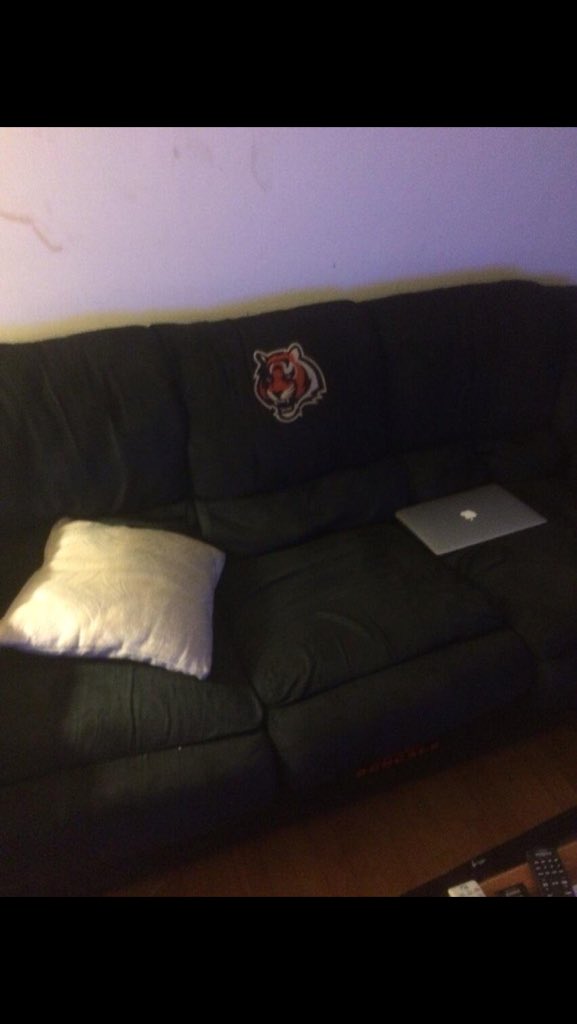 PS- I was only like partially kidding when I said I was gonna burn this couch after we win on Twitter the other day. I'm legitimately concerned for my own well being. Like, I don't really know what to do when we win here in a couple hours. Is burning couches acceptable? Taking to the streets? Flipping cars? Full scale riots? I know the old adage is act like you've been there before, but I literally haven't, so anyone that has any sort of experience with these playoff win things, don't hesitate to get at me and give me a few tips as to how I should conduct myself appropriately.